Lorna Varn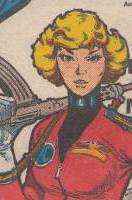 Characteristics
Status
Occupation
Starship captain
Origin
First appearance
Last appearance
History
Commander Lorna Varn was the captain of the starship Eternity, which crashed on a hostile alien world while transporting a group of Earth colonists. Lorna ended up fighting a running battle against both rampant sexism and hostile alien life forms while trying to keep them all alive.

Paraphernalia
Transportation
Starship
Eternity
.
Weapons
Rifle.

Notes
Lorna Varn was the star of the 2000 AD strip Death Planet, and was the comic's first ever female lead character.

Trivia
Not to be confused with Lorna Vine.
Links
Discover and Discuss
Ad blocker interference detected!
Wikia is a free-to-use site that makes money from advertising. We have a modified experience for viewers using ad blockers

Wikia is not accessible if you've made further modifications. Remove the custom ad blocker rule(s) and the page will load as expected.