Luther Arkwright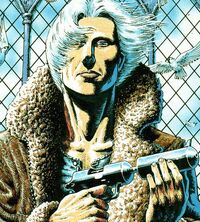 Real name
Luther Arkwright
Relatives
Princess Victoria (daughter); Prince Henry (son, deceased)
Base of operations
Parallel Zero-Zero
Characteristics
Origin
History
Born on Parallel Zero-Zero but raised by the Disruptors, Luther Arkwright escaped the trap of his uprbringing to become an agent of order in a multiverse in danger of being consumed by chaos. Killed while aiding the Royalist forces on a parallel world where the English Civil War has been extended indefinitely by the Disruptors, Arkwright returned to life to discover his powers enhanced. Aided by his lover, the telepath Rose Wylde, Arkwright eventually saved the multiverse before renouncing violence. Twenty-three years later, however, he would be forced into action again to aid his daughter Princess Victoria against the oppressive regime of her mother, Queen Anne.

Powers and abilities
Powers
Arkwright has the natural ability to travel between the parallel worlds of the multiverse at will.
Abilities
Ability to heal the injuries of others by touching them. Also seemingly able to heal himself from any injury.
Links
Discover and Discuss