Mad Ronn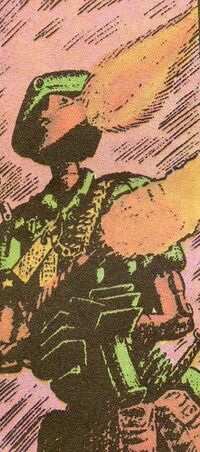 Base of operations
Gothic Empire
Characteristics
Unusual features
He's a robot
Status
Origin
History
Mad Ronn was originally a 'sniffer' robot, a bomb disposal expert with a snout containing the most sensitive electronic sensors. He was a member of a robot hit squad (along with Hammerstein and Hitaki) working for the Empire of Termight until he switched sides and joined the ABC Warriors under the leadership of Nemesis the Warlock. He was killed while "trying to defuse a bomb the Terminators had planted on a space-liner full of alien refugees," most of whom had escaped in the life-pods when it detonated.

Paraphernalia
Weapons
Nose-mounted flamethrower.

Notes
Mad Ronn, like Happy Shrapnel before him, was killed off-panel, between stories, largely because his somewhat unfortunate design made him too stupid to live.
Links
Discover and Discuss
Ad blocker interference detected!
Wikia is a free-to-use site that makes money from advertising. We have a modified experience for viewers using ad blockers

Wikia is not accessible if you've made further modifications. Remove the custom ad blocker rule(s) and the page will load as expected.