Maisie Grumpling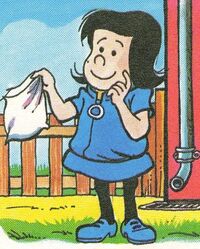 Real name
Maisie Grumpling
Base of operations
Croynge
Characteristics
Status
Origin
History
Maisie is a belligerent little girl, totally self centred, greedy and vain and with a deep rooted belief that the contents of every paper bag, particularly if it contains sweets, are hers by right. And those are her good points. She will go to any lengths to get what she wants, and has been known to employ the fearsome Beryl Bogey as a henchperson.
Maisie is utterly besotted with Marlon, who returns her affections not at all, and has an antagonistic relationship with her little brother, Baby Grumpling, who likes to have fun with her fear of spiders by putting them in her knicker drawer, or in the bath.

Notes
Maisie is the only one of The Perishers who appears to have both a first and a last name.
Links
Discover and Discuss
Ad blocker interference detected!
Wikia is a free-to-use site that makes money from advertising. We have a modified experience for viewers using ad blockers

Wikia is not accessible if you've made further modifications. Remove the custom ad blocker rule(s) and the page will load as expected.