Major Eazy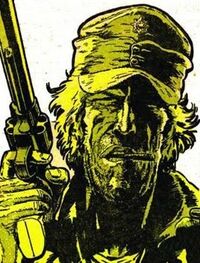 Characteristics
Status
Origin
Origin
Normal human birth
History
Major Eazy was a laconic, laid-back British Army officer with a total disregard for authority or protocol who served in Greece, North Africa and Italy in World War II, including El Alamein. Teamed early in his career with a deadly Bedouin guide named Tewfik, Eazy later became the leader of the undisciplined mob of convict commandos known as the Rat Pack for a time while their C.O., Major Taggart, recovered from injuries sustained while in the hands of the Gestapo.

Powers and abilities
Abilities
Leadership skills; kicking Nazi butt.
Strength level
Peak human male.
Weaknesses
Cigars.

Paraphernalia
Transportation
Vintage Bentley.
Weapons
Yes.

Notes
Major Eazy had three separate runs in Battle over two and a half years, as well as his sojourn with the Rat Pack. His earliest series, oddly, takes place in 1944, chronologically three years after his second run.
When Major Eazy's strips were reprinted in the 1980s, a smoking ban at IPC resulted in his trademark cigar being painted out. This totally ruined the original artwork, and frequently made it look as if Eazy were sticking two fingers up at the readers.
Eazy was the inspiration for a later character, Cursed Earth Koburn, created by Gordon Rennie and Eazy artist Carlos Ezquerra for the Judge Dredd Megazine.

Trivia
Ezquerra based Eazy on film actor James Coburn's portrayal of Britt in The Magnificent Seven.
Links
Discover and Discuss