Major Magnam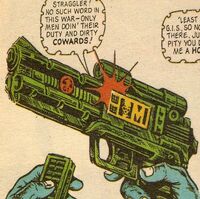 Current alias
Major Magnam
Characteristics
Unusual features
He's a gun
Status
Occupation
Soldier; sentient gun
Origin
Origin
Product of genetic engineering
History
Major Magnam of the 2nd Cohort Division was a Genetic Infantryman, created by Milli-Com to fight the war against the Norts on Nu Earth. At some point, the fanatical Magnam's actions apparently caused the deaths of his unit. The Major himself was also killed and the biochip containing his personality placed in a slot in his handgun.
Magnam was picked by the Rogue Trooper who, being of a lower rank, reluctantly found himself under Magnam's command. He soon discovered that Magnam was an obnoxious personality who used potentially life-saving oxygen tanks for target practice and loved the sound of his own synth. Magnam even ordered a Souther lieutenant to use him to pistol-whip his soldiers for what Magnam called cowardice (which was in fact the perfectly understandable failure to capture a well-defended location from heavily armed Norts).
Eventually the major's incompetence caused the needless deaths of scores of Souther soldiers, and when Magnam learned that Rogue was a deserter from Milli-Com he tried to turn his 'biochip buddies' Gunnar, Helm and Bagman against him. Gunnar disarmed Magnam and Rogue took the gun, but sent Magnam's biochip in a support capsule back to Milli-Com to be 're-gened' (given a new body).
Once he was re-gened Major Magnam returned to Nu Earth to put Rogue on trial for desertion. However, just as he was about to kill Rogue the Norts activated their mind-control weapon and forced him to shoot himself instead. (The weapon was meant to make Rogue commit suicide.)

Powers and abilities
Abilities
Shooting.
Strength level
He's got ten different types of bullet, including micro-missiles, so... probably superhuman.
Weaknesses
He's a victim of the Dunning-Kruger effect.

Paraphernalia
Equipment
Onboard strategic microcomputer.
Transportation
Carried around by Rogue.
Weapons
He is a weapon.
Links
Discover and Discuss
Ad blocker interference detected!
Wikia is a free-to-use site that makes money from advertising. We have a modified experience for viewers using ad blockers

Wikia is not accessible if you've made further modifications. Remove the custom ad blocker rule(s) and the page will load as expected.