Mandrac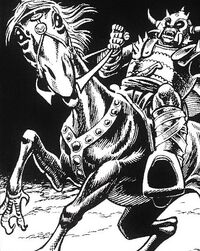 Aliases
Lord of the Slain
Base of operations
Netherworld
Characteristics
Status
Origin
First appearance
Last appearance
History
Mandrac was one of the Nether Gods (see also Necromon), who ruled a region of the mystic realm of Otherworld where the souls of warriors slain in battle were taken. He opposed Merlyn and his allies Captain Britain and the Black Knight but, after trying to claim the soul of the temporarily deceased Captain Britain, was defeated and entombed underground by Merlyn.

Powers and abilities
Strength level
Superhuman.

Paraphernalia
Equipment
Horned helmet.
Transportation
Weird horse-like creature with clawed feet.
Weapons
Sword; war hammer.

Notes
Mandrac had two humanoid servants who could transform themselves into carrion crows (unless it was the other way round). Their names were Nightshade and Wolfsbane.

Trivia
Mandrac was later retroactively established as one of the Nether Gods who set Mordred against the Black Knight in the American-published Marvel Super-Heroes #17 in 1968. The retconning happened when the episode was reprinted in Hulk Comic #41.
Links
Discover and Discuss
Ad blocker interference detected!
Wikia is a free-to-use site that makes money from advertising. We have a modified experience for viewers using ad blockers

Wikia is not accessible if you've made further modifications. Remove the custom ad blocker rule(s) and the page will load as expected.