Manix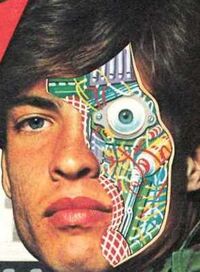 Affiliation
The British government
Characteristics
Unusual features
He's a robot
Status
Origin
History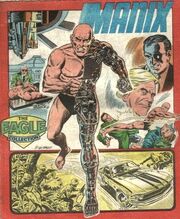 Manix, the title character in the strip
Manix
in the
Eagle
, was an android secret agent created by a top secret British government department, which was used by his/its superiors to carry out a variety of covert missions, frequently using tactics which would not have been approved of by either those in power or the public. Manix had artificial intelligence but no sense of free will or conscience. At least two separate versions of the Manix android were created, since the original was destroyed at one point (the two Manixes actually fought each other). His/its appearance changed radically on more than one occasion since its outer covering was a synthetic skin which could be replaced or modified by his/its creators and also tended to get damaged in the field.
Powers and abilities
Strength level
Superhuman.

Notes
Like several of the strips in the revived Eagle, Manix began as a photo strip before later becoming a traditional illustrated strip.
Links
Discover and Discuss
Ad blocker interference detected!
Wikia is a free-to-use site that makes money from advertising. We have a modified experience for viewers using ad blockers

Wikia is not accessible if you've made further modifications. Remove the custom ad blocker rule(s) and the page will load as expected.