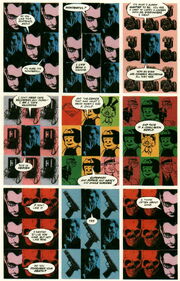 Mark John Buckingham (a.k.a. Bucky) is a comics artist from Clevedon in Somerset who was born on May 23rd 1966 and is not yet dead. He has been working in the industry since 1987, when he illustrated amongst other things a number of articles by
Neil Gaiman
in British satirical magazine
The Truth
. The majority of his work since 1988 has been for American comics, notably Vertigo's
Hellblazer
,
Sandman
,
Death: The High Cost of Living
,
Death: The Time of Your Life
,
Shade the Changing Man
and
Fables
and Eclipse's
Miracleman
(with Neil Gaiman, following
Alan Moore
) as well as
Spider-Man
,
Star Trek
,
Dr Strange
,
Generation X
and
Ghost Rider 2099
for Marvel. However, he has also done some work in Britain for
2000 AD
, on
Tyranny Rex
and
Tharg's Future Shocks
, as well as a story in a
Revolver Special
in 1990 and the limited series
Mortigan Goth: Immortalis
for
Marvel UK
in 1993. He has so far won four Eisner awards, and now lives in Spain with his wife, journalist and TV newscaster Irma Page (Neil Gaiman was best man at their wedding).
Ad blocker interference detected!
Wikia is a free-to-use site that makes money from advertising. We have a modified experience for viewers using ad blockers

Wikia is not accessible if you've made further modifications. Remove the custom ad blocker rule(s) and the page will load as expected.