Marlon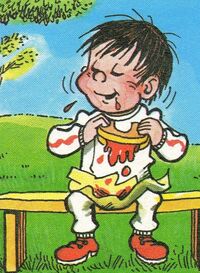 Base of operations
Croynge
Characteristics
Status
Origin
History
Marlon is basically a lump. He is a boy with the brains of a fence post and a gaze as vacant as a vandalized loo. He eats inch thick ketchup sandwiches (which inevitably spurt everywhere when he bites into them, covering innocent bystanders in ketchup), carries half a yo-yo which he optimistically refers to as a "yo" and swings from side to side because he doesn't know it should go up and down, and spends much of his life inventing useless and impractical items. The elephant's foot umbrella stand was one of his; Marlon's version, though, involved capturing an elephant, tying it up and leaning an umbrella against its leg!
His main ambitions in life are to become either a brain surgeon or a bloke-what-goes-down-sewers-n-big-rubber-boots.
Marlon is the unwilling object of Maisie's affections, and spends most of his money on home made buggies which he buys from Wellington.

Notes
Marlon is never seen without his track suit, which has "Dunlop" on the front.
Links
Discover and Discuss
Ad blocker interference detected!
Wikia is a free-to-use site that makes money from advertising. We have a modified experience for viewers using ad blockers

Wikia is not accessible if you've made further modifications. Remove the custom ad blocker rule(s) and the page will load as expected.