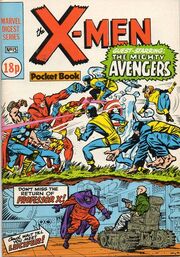 In March 1980, as one of his final creations as part of his "Marvel Revolution", then editorial director of
Marvel UK
Dez Skinn launched the "Marvel Digest Series" pocket books line with four titles, each title containing 50 pages of black and white US Marvel reprints (making them 52 pages including covers). Using the same amount of paper as his standard weeklies, by adding an extra fold it allowed for twice as many pages to be reprinted. The line eventually included
Spider-Man Pocket Book
(Spidey was also featuring at the time in his own
weekly
title), the
Fantastic Four Pocket Book
,
Hulk Pocket Book
,
The Titans Pocket Book
(previously a weekly title,
The Titans
, which had been cancelled some years before, now starring
Captain America
,
Thor
and Iron Man),
Marvel Classics Comics
(featuring adaptations of classic novels, and published twice monthly unlike the others),
Conan Pocket Book
(
Conan
also had a monthly
magazine
),
Chiller
(starring Dracula, the Man-Thing and occasionally Ghost Rider and others),
Star Heroes
(featuring TV tie-in Battlestar Galactica and also the Micronauts, who had transferred across from
Star Wars Weekly
) and
Young Romance Pocket Book
(featuring reprints of teenage romance titles from the fifties and sixties). Some of the titles, however, were not a success in terms of sales and Hulk, Conan, The Titans and Young Romance were all cancelled after thirteen issues and Marvel Classics Comics after twelve, while Star Heroes (which had replaced The Micronauts with the
X-Men
from issue #10 following an all-Battlestar Galactica issue #9; the Micronauts resurfaced in the pages of
Future Tense
) was renamed '
X-Men Pocket Book
' from #12, and turned solely over to the mighty mutants. Spider-Man also underwent a revamp, with the more modern stories it had started out reprinting replaced by early sixties classics after a few issues. The Spider-Man, Fantastic Four, Chiller and X-Men pocket books were all cancelled after their 28th issues in July or August 1982, with the Spider-Man strip being continued in new monthly magazine
The Daredevils
in January 1983 and the Fantastic Four resurfacing in their own weekly title in October 1982. Several 100 page double sized issues were produced during the various titles' runs, with the price bumped up from 15p to a then exorbitant 30p (!). The regular price would eventually rise to 25p for the four longest running titles.