Mata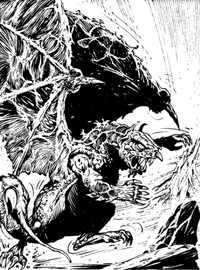 Base of operations
His cave
Characteristics
Unusual features
Big nasty dragon
Status
Origin
History
The Mata is a character from the 2000 AD strip Sláine. He was an elderly dragon that lived in the cold mountains of Cambria (where Wales is today), part of the country of Tír na nÓg. After spending years in hibernation, he re-awoke and began terrorising the local village as he had done years ago. His first victim was a man named Gwawl, son of a woman named Kiva who had a large hatred for the flying beasts, which was unfortunate as the Mata's reawakening just so happened to coincide with Nest's return to her father's dragon farm.
After killing a deer, the Mata flew to its old sacrificial post, where in years past the villagers would tie pretty young women in hopes of keeping the Mata at bay. Finding nothing there it began stalking the village for prey, eventually coming across La, the wife of the man he had killed only several hours earlier. It put a glamour on La, making her see Gwawl before eating her.
After discovering this, Kivca kidnapped Nest and tied her to the sacrifice post in a form of revenge, hoping to kill both her and the dragon at the same time. However, just before the dragon ate its prey, the villagers attacked, only for most of them to be incinerated in the Mata's flames. Shortly thereafter, Sláine came riding down on his own dragon The Knucker and the two beasts begin to duke it out in the sky. After a lengthy battle, Sláine threw an anchor into the Mata's jaws causing it to choke up on its own flames and explode, ending its brief reign of terror.

Powers and abilities
Abilities
Flight; super strength; flaming breath; seeing in infra-red; casting a glamour on its prey.
Strength level
Enormous.
Weaknesses
Anchors.

Paraphernalia
Transportation
Himself.
Weapons
Teeth; claws; fire.

Trivia
This is probably a coincidence, but 'mata' is Spanish for 'kills'. Hence the warning on Spanish packets of cigarettes: 'fumar mata', or 'smoking kills'. It certainly didn't do the Mata much good.
Links
Discover and Discuss