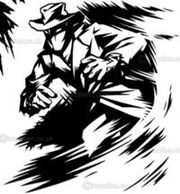 Maxwell Stockbridge (born January 1st 1908 and still not dead), a retired intelligence agent and former bull fighter, lion tamer, human cannonball and chicken wrangler from Mablethorpe in Lincolnshire, and three times winner of the Ernest Wise prize for literature, was the original writer of the long-running series of prose stories starring the retro-pulp vigilante
Night Raven
(pictured) which ran in various
Marvel UK
magazines including
Savage Action
,
Marvel Super-Heroes Monthly
,
The Daredevils
,
Mighty World of Marvel
,
Savage Sword of Conan
and
Captain Britain
throughout the early to mid 1980s, as well as various stories in
Doctor Who Magazine
. Or rather, he
would
have been, had he been a real person: in fact, Max was just a pseudonym used initially by
Alan McKenzie
and later by other writers including
Paul Neary
,
Steve Parkhouse
and
Alan Moore
. Stockbridge, whose first credit seems to have appeared in November 1981, was eventually retired by Moore when he began placing his own credit on the later Night Raven stories, but the mythical Max was commemorated nonetheless by the village of
Stockbridge
in Marvel's long running
Doctor Who
series, and the village's most notable resident, U.F.O. spotter
Maxwell Edison
. There is no Ernest Wise prize for literature, either.
Ad blocker interference detected!
Wikia is a free-to-use site that makes money from advertising. We have a modified experience for viewers using ad blockers

Wikia is not accessible if you've made further modifications. Remove the custom ad blocker rule(s) and the page will load as expected.