Jim Grubb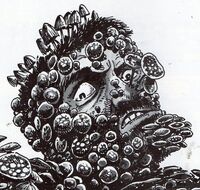 Aliases
The mushroom man; Grubby; Mayor Mushroom
Characteristics
Unusual features
Covered in mushrooms
Status
Origin
Origin
Contracted rare disease
History
Mayor Jim Grubb is a supporting character in the 2000 AD strip Judge Dredd. He was the genial, popular civic leader of Mega-City One who was forced to imitate a chicken by the insane Judge Caligula. Grubb went missing during the first days of The Apocalypse War and resurfaced at the war's end, having been driven insane by the trauma of the conflict and reduced to living as a tramp. While searching for food with his fellow hobos, Grubb contracted mysterious parasitic infection — later known as 'Grubb's disease' — which turned him into walking fungus. The finest minds of the city's medical fraternity couldn't save Jim, who passed away with the poignant last words, "Please don't eat me!"
To commemorate his years of dedication to the public good, the city later named an airport after him.

Powers and abilities
Abilities
Leadership skills; charisma.
Strength level
Human male who gets minimal exercise.
Weaknesses
Mushrooms, apparently.

Paraphernalia
Transportation
After the Apocalypse War, only walking.
Weapons
None.

Notes
A variety of Grubb's mushroom was later spliced with triffid genes by the Sovs to create a deadly bio-weapon. Devlin Waugh has some in his garden.
Links
Discover and Discuss
Ad blocker interference detected!
Wikia is a free-to-use site that makes money from advertising. We have a modified experience for viewers using ad blockers

Wikia is not accessible if you've made further modifications. Remove the custom ad blocker rule(s) and the page will load as expected.