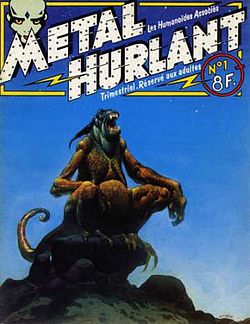 Metal Hurlant
("Howling Metal") was a long running French sci-fi and horror anthology comics magazine originally created in December 1974 by the artists Philippe Druillet and
Mœbius
, writer Jean-Pierre Dionnet and financial director Bernard Farkas, collectively known as Les Humanoides Associes ("United Humanoids"). Originally released quarterly and later first bi-monthly and then monthly, it showcased the talents of numerous creators both European and American, including
Milo Manara
and
Chris Foss
. It ceased publication in July 1987 but returned for a second (14 issue) run from July 2002 to December 2004. It also spawned an American version,
Heavy Metal
.
Ad blocker interference detected!
Wikia is a free-to-use site that makes money from advertising. We have a modified experience for viewers using ad blockers

Wikia is not accessible if you've made further modifications. Remove the custom ad blocker rule(s) and the page will load as expected.