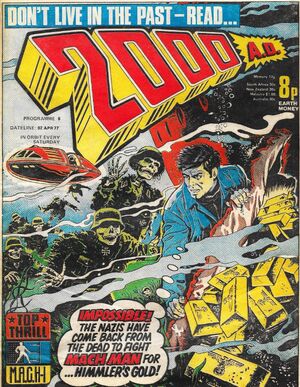 Mike Dorey is a British comics artist who has worked for
2000 AD
,
Eagle
(on
Computer Warrior
) and
Tornado
(on
Victor Drago
) all for
IPC
. He sometimes uses the
nom de plume
of J. Clough. For
2000 AD
he has drawn
M.A.C.H. One
(pictured),
Invasion!
,
Ro-Busters
,
Psi-Testers
,
Tharg's Future Shocks
,
M.A.C.H. Zero
,
The Mind of Wolfie Smith
,
Tharg and the Creep that Stole Croydon
,
Rogue Trooper
and
Tharg's Time Twisters
.
Dorey also drew Hellman in Action and Battle Picture Weekly, Future Ball in Roy of the Rovers, Scorpio in Eagle and, for rival publishers D.C. Thomson, Cadman the Fighting Coward in Victor and Big Willi, Iron Annie and Sergeant Rayker in Warlord, as well as Sandra the She-Devil in Heavy Metal (1988). He left comics in the 1990s to work in advertising.
Ad blocker interference detected!
Wikia is a free-to-use site that makes money from advertising. We have a modified experience for viewers using ad blockers

Wikia is not accessible if you've made further modifications. Remove the custom ad blocker rule(s) and the page will load as expected.