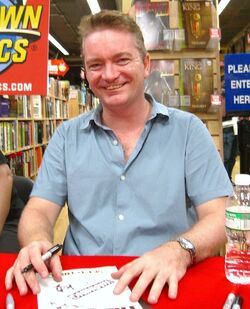 Mike Perkins, whose website is
here
, is a British comics artist who has worked for DC Comics, Dark Horse, Marvel and CrossGen. For
2000 AD
he has drawn:
He has also co-created The Life and Time of Ulli & Marquand and Their Misadventures in Mordheim, City of the Damned (a Warhammer graphic novel), and the mini-series Union Jack: London Falling.
Ad blocker interference detected!
Wikia is a free-to-use site that makes money from advertising. We have a modified experience for viewers using ad blockers

Wikia is not accessible if you've made further modifications. Remove the custom ad blocker rule(s) and the page will load as expected.