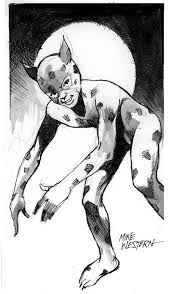 Mike Western (4th February 1925 to 13th May 2008) was a comics artist whose career in the industry began at
Amalgamated Press
in the early 1950s, when he began drawing adventure strips such as
Lucky Logan
and
Johnny Wingco
for
Knockout
. He started to draw TV-related strips including
Biggles
and
No Hiding place
for
TV Express
in 1960.
In 1962 Western moved on to Buster, where he drew When Britain Froze, World in Peril and The Star of Fortune, and co-created the long-running The Leopard from Lime Street with inker Eric Bradbury. That year also saw the beginning of Western's thirteen-year association with Valiant, for which he drew over 500 covers, as well as strips including Jack O'Justice, The Duke of Dry Gulch and Tom Tully's The Wild Wonders.
After Valiant's cancellation in 1975 Western moved across to Battle Picture Weekly, drawing The Sarge, HMS Nightshade, Tom Tully's The Team that Went to War and John Wagner's Darkie's Mob. He also drew two covers for 2000 AD (in 1977 and 1981), Baker's Half Dozen for Speed (1980), Topps on Two Wheels and Golden Boy for Tiger, Computer Warrior, The Hard Men, Shadow and The Avenger for Eagle, and Billy's Boots for a four year stint in first Scorcher and then Roy of the Rovers, as well as the Roy of the Rovers newspaper strip in The Daily Star from 1992 to 1993.
Western retired from comics in the mid-1990s in order to concentrate on painting and magazine illustration. He died in 2008 at the age of 83, after having been bedbound for some months following a stroke and a heart attack.
Ad blocker interference detected!
Wikia is a free-to-use site that makes money from advertising. We have a modified experience for viewers using ad blockers

Wikia is not accessible if you've made further modifications. Remove the custom ad blocker rule(s) and the page will load as expected.