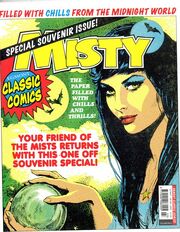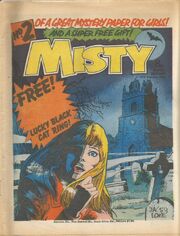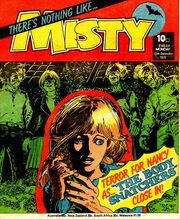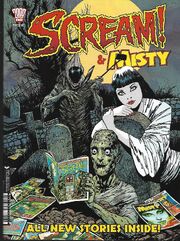 Misty
was a weekly girls' comic conceived mostly by
Pat Mills
and published by
Fleetway
from 4th February 1978 to 12th January 1979. When it launched it sold 170,000 copies a week.
Misty
ran for a total of 101 issues before being merged with
Tammy
, where its logo appeared prominently on the cover for 34 issues, and then rather less prominently for another 51 before disappearing completely.
Despite its comparatively short run, Misty is very well remembered for its unusual tone and the quality of its stories: unlike most girls' comics at the time, Misty had an underlying theme — the supernatural — and some of the stories were genuinely spooky. The comic was 'hosted' by Misty herself, a mysterious girl who dwelled in the 'Cavern of Dreams' next to a strange pool.
Misty Holiday Specials appeared in 1978, 1979 and 1980, and the Misty Annual was published from 1979 to 1986. In addition, from February to September 1986, a Best of Misty reprint title appeared, running a total of eight issues. Egmont published a 'Special Souvenir Issue' of Misty in 2009, the fourth and last of a series of specials published during the course of the year (the others being Battle, Roy of the Rovers and Buster). Two fan-produced Misty Halloween Specials were published, in 2006 and 2009, by Mistycomic.co.uk, featuring specially produced new material. Rebellion began reprinting selected stories from Misty in 2016, with a collected edition of the serials Moonchild and The Four Faces of Eve. In 2017, they published a Scream! & Misty Special featuring all new material, as well as a second collected eition featuring The Sentinels and End of the Line.