Mongrol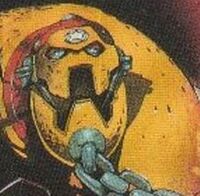 Aliases
The Gawk; 'the ape'
Base of operations
Mars; formerly Earth; formerly Mekka
Characteristics
Unusual features
He's a robot
Status
Occupation
Terrifying vengeance machine
Origin
Origin
Reconstructed after accident
First appearance
Last appearance
History
Mongrol is a character from the 2000 AD strips ABC Warriors and Nemesis the Warlock. The creature that would become Mongrol was an officer in the Robo-Paratroopers regiment during the Volgan War. Virtually destroyed on campaign, his remains were found and reassembled using various pieces of scrap by a woman named Lara, the now brain-damaged and hulking creature that resulted becoming Mongrol.
The brute was of limited intellect but fiercely loyal to Lara, and he was heartbroken when she was murdered by the Volgans. Mongrol was inducted into the ABC Warriors by Hammerstein and aided them in ending the Volgan War and subsequently in bringing order to Mars, forming an attachment to the molten creature known as The Mess, which he treated as a pet.
He was given to violent impulses, but tried to control them and act like a hero in hopes of meeting Lara again when he died, after Deadlock told him that "only good robots go to Heaven."
Mongrol's activities after the Warriors broke up are unknown, but centuries later, when Nemesis the Warlock decided to reform the Warriors, he found Mongrol working as a wrestler on the free robot world of Mekka, under the name 'the Gawk'. Mongrol rejoined the Warriors and has remained with them ever since. His already low intellect gradually deteriorated over time, leaving him eventually without even the power of speech and effectively the 'pet' of the female Warrior Morrigun.
Recently though, another head injury has resulted in the reversal of the damage which originally scrambled Mongrol's mind, restoring his original persona from before his accident, though he still retains his memories of his life as Mongrol.

Powers and abilities
Abilities
Armed combat.
Strength level
Mongrol is incredibly strong and durable.

Paraphernalia
Transportation
Spaceships.
Weapons
Power Paws; mouth-mounted gun.

Notes
Since his intellect was restored, Mongrol has shown natural leadership skills and is a clever strategist. He also has a fondness for cigars.

Trivia
When Mongrol dispatched his foes, he would for a time customarily give them a message to pass on to his lost benefactor in the afterlife: "Tell Lara I love her. Tell Lara I need her." He also had a catchphrase of sorts: the pithy "Mongrol smush!"
Links
Discover and Discuss