Fred Nook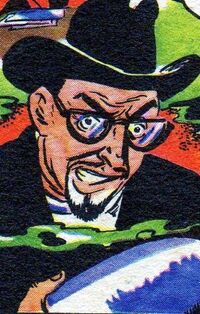 Characteristics
History
Fred Nook was a phoney dentist who set up shop next door to the Daily Bugle offices but whose lack of qualifications was discovered by copyboy Micky Moran after he pulled the wrong tooth while treting his editor. The quack tried to take his revenge by disguising himself with a fake beard and glasses and unleashing a "Misery Gas" (the opposite of laughing gas, apparently) on the Bugle staff, but was defeated and unmasked by Marvelman.

Powers and abilities
Weaknesses
Lousy at dentistry

Paraphernalia
Weapons
Misery Gas
Links
Discover and Discuss
Ad blocker interference detected!
Wikia is a free-to-use site that makes money from advertising. We have a modified experience for viewers using ad blockers

Wikia is not accessible if you've made further modifications. Remove the custom ad blocker rule(s) and the page will load as expected.