Mr Sun and Mr Moon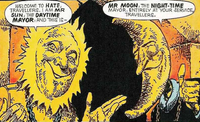 Real name
Mr Sun and Mr Moon
Characteristics
Unusual features
They resemble anthropomorphic depictions of celestial bodies
Status
Occupation
Day and Night Mayors of Hate
Origin
History
Mr. Sun and Mr. Moon are villains from the 2000 AD strip Strontium Dog. They were two insane entities created by a very powerful man who called himself Satan, and they served as the Day and Night Mayors of the city of Hate. The pair created tickets which allowed for escape from the Hell dimension and would release three each day, often causing chaos amongst the citizens, who killed each other for the tickets.
The two of them were later summoned among many of the other demons encountered by Johnny Alpha while travelling through the Hell Dimension and they were both likely destroyed when Satan destroyed himself and the dimension.

Powers and abilities
Powers
Vast magical powers including flight, body deflation/inflation, matter erasing, causing earthquakes, summoning gargoyles and more.
Strength level
Probably superhuman.
Weaknesses
They can both be annihilated by the being who created them.

Notes
Mr. Sun and Mr. Moon talk to one another in a manner resembling that of Mr Brass and Mr Bland, later 2000 AD creations.
Links
Discover and Discuss
Ad blocker interference detected!
Wikia is a free-to-use site that makes money from advertising. We have a modified experience for viewers using ad blockers

Wikia is not accessible if you've made further modifications. Remove the custom ad blocker rule(s) and the page will load as expected.