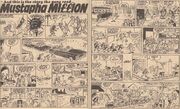 Mustapha Mi££ion
, initially by
Reg Parlett
and later
Joe McCaffrey
, debuted in
Cheeky Weekly
in October 1977 and appeared throughout the title's run before migrating to the pages of
Whoopee!
in 1980, where the strip continued until 1985. It concerned a ludicrously rich Arab kid who lived in Britain, seemingly independent of any parental control, and who used his fabulous wealth principally on rather frivolous stunts for his own amusement or for the benefit of his not surprisingly many friends. Curiously Mustapha, while 'real' within his own strip, was frequently depicted as a comic strip character within the
Cheeky
strip which framed his early stories, making him a kind of fiction within a fiction...
Ad blocker interference detected!
Wikia is a free-to-use site that makes money from advertising. We have a modified experience for viewers using ad blockers

Wikia is not accessible if you've made further modifications. Remove the custom ad blocker rule(s) and the page will load as expected.