Mysterion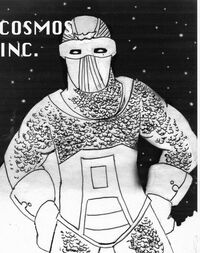 Characteristics
Origin
First appearance
Rainbow Bridge Apazine, 1990s
History
Mysterion is an armoured bounty hunter who was hired by the World Security Agency to locate a mysterious black box stolen by James Bland and handed over to the operatives of Cosmos, Inc.. He claimed to have the power to warp reality, but was later discovered to be exaggerating his own powers, which were psychic in nature and enabled him to alter people's perceptions. Mysterion was sucked into an interdimensional gateway created by the black box and found himself traversing various realities trying to find his way home while having a series of unlikely adventures, accompanied by sisters Martine and Dominique of the Little Sisters of Perpetual Annihillation, his former competitors. One of these adventures involved a political coup on a planet of anthromorphic rabbits; another saw him caught up in a superhero battle in World War II.

Powers and abilities
Powers
Psychic abilities of an undisclosed nature
Abilities
Illusion casting; altering people's perceptions

Paraphernalia
Equipment
Armour of sophisticated design
Links
Discover and Discuss
Ad blocker interference detected!
Wikia is a free-to-use site that makes money from advertising. We have a modified experience for viewers using ad blockers

Wikia is not accessible if you've made further modifications. Remove the custom ad blocker rule(s) and the page will load as expected.