Necrophim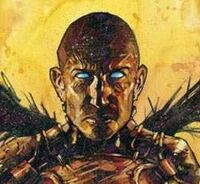 Characteristics
Status
Origin
Origin
Fell like lightning from Heaven
History
"When Heaven cast the rebel angels out, they altered them at their base level. They made them Necrophim, changed them in such a way that they would never be able to return, that they would ignite in heavenly fire as soon as they came close..."
The Necrophim included Uriel, Ezarat, Neboron, Seneschal, Valion and Eralon. They were the Seraphim who followed their leader, Lucifer, into Hell. The Necrophim starred in the series of the same name which ran in 2000 AD progs 1628-1632, 1655-1665, 1715-1723 and 2011 (published December 2010). The first five parts were effectively an extended prologue, with the main story beginning in prog 1655.
The plot explores the ramifications of Lucifer having become a mentally unstable debauchee, causing his lieutenants to both question his fitness to lead and strike clandestine deals with agents of Heaven. Meanwhile, the demons — the original inhabitants of Hell, as distinct from the ex-celestial Necrophim — would quite like their old territory back. This leads to everybody double-crossing everybody else, occasionally while having sex with them at the same time, and having secret plans concealing secret plans hiding yet more secret plans, like a diabolical Russian doll. Even God, it transpires, has a secret plan. Betrayals and fake betrayals happen at least once an episode, enlivened by the occasional casual decapitation and an impressive number of naked breasts. The monochrome artwork suits the theme and tone of the series, but is so murky that it tends to add to the confusion about what is actually happening. (That said, giving Cerberus the heads of pit bull terriers is a very neat touch.)

Powers and abilities
Powers
Various, not fully documented.
Abilities
Armed combat; treachery.
Strength level
Superhuman.

Paraphernalia
Equipment
Suits of armour.
Transportation
They can fly.

Notes
Trivia
'Necrophim' appears to be a portmanteau formed from the Greek nekros, meaning 'dead', and the Hebrew 'Seraphim', the plural of 'Seraph', a member of the highest order of angels.
In Milton's Paradise Lost Uriel was the angel of the sun, and remained loyal to God.
A seneschal is a steward, i.e. a servant who has administrative responsibilities.
Links
Discover and Discuss
Ad blocker interference detected!
Wikia is a free-to-use site that makes money from advertising. We have a modified experience for viewers using ad blockers

Wikia is not accessible if you've made further modifications. Remove the custom ad blocker rule(s) and the page will load as expected.