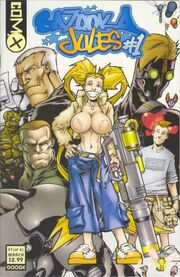 Neil Googe is a British comics artist who began his career working on
Shotgun Mary
for American publisher Antarctic Press in 1997 and various strips for
2000 AD
, including
Judge Dredd
,
Mercy Heights
and
Pulp Sci-Fi
from 1998 to 1999. In 2000, he was one of the co-founders of British independent comics publisher
Com.X
, for which he created
Bazooka Jules
. The strip was discontinued after three issues, but Googe still has plans for the character.
Googe has since worked extensively in the US comics industry. He has also drawn for the Judge Dredd Megazine (on strips including Hondo-City Justice and Tales from the Black Museum) and co-created Survival Geeks for the 2000 AD, which started off as one of Tharg's 3rillers and was then given its own series.
Googe has a Twitter feed here.