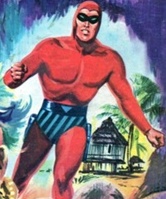 Norman Worker (1927 - 2005) was a comics writer from Kent who was best known for his work on
The Phantom
, writing 127 stories featuring the "Ghost Who Walks" for the Scandinavian market until his retirement in 2004. He also worked on
The Saint
and
Buffalo Bill
for the Swedish company Semic, and on
Powerman
for
Bardon Press Features
. His early works were signed with the pseudonym "J. Bull".
Worker's cousin, Modesty Blaise creator Peter O'Donnell, was responsible for his entry into the field of comics.
Ad blocker interference detected!
Wikia is a free-to-use site that makes money from advertising. We have a modified experience for viewers using ad blockers

Wikia is not accessible if you've made further modifications. Remove the custom ad blocker rule(s) and the page will load as expected.