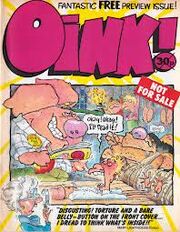 Oink!
was a weekly comic published by
IPC
from 3rd May 1986 to 22nd October 1988 (68 issues in total). Tonally very different from the company's other humour titles, while still aimed at children it was intended to evoke the anarchic, bad taste style of the adult comic
Viz
. Unlike its stablemates,
Oink!
included photo-strips and features including spoof news items as well as comic strips. It also had a fictional 'editor',
Uncle Pigg
, who was assisted by staff called 'the Plops' (their exact nature is best left unexamined).
Originally a fortnightly title, later a weekly, Oink! was dogged by controversy from the start as various groups including a chain of newsagents deemed it offensive and unsuitable for children and demanded that it be racked with the top shelf magazines! It was eventually cancelled and merged with Buster. Strips featured included Tom Thug, Pete and His Pimple, Psycho Gran, The Secret Diary of Hadrian Vile and The Streethogs.
Ad blocker interference detected!
Wikia is a free-to-use site that makes money from advertising. We have a modified experience for viewers using ad blockers

Wikia is not accessible if you've made further modifications. Remove the custom ad blocker rule(s) and the page will load as expected.