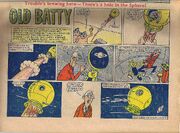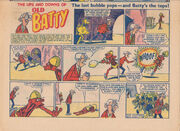 Old Batty
ran in
Topper
between 1966 and 1969, and seen today it is a quaint but impressive entry that bristles with eccentric invention and limitless lunacy.Essentially it was a 'go-anywhere'
Doctor Who
-like fantasy that went far beyond the confined dramas (at least, in comparison to this!) of the celebrated Time Lord. Although the
Topper 
strip is largely unheralded even by hardcore comics buffs today, its vibrant energy stands out like a solitary beacon admist the mostly traditional fare from
D.C. Thomson
of the period. In fact, the no-holds-barred cavortings probably more echo the stream-of-concious outrages put out by Odhams over the same point in time.
Unusually, this strip was penned by no fewer than three stalwart D.C. Thomson artists (in chronological order): George Martin, Michael Barratt and The Three Bears artist Bob McGrath. In a nutshell, eccentric inventor Batty builds a Tardis-like device — charmingly dubbed the 'Battysphere' in the tales — which can delve into the mysteries of the ancient past or future, or indeed to bizarrely uncharted planets out in deep space. He is accompanied by his faithful assistant, Yob, whom he has picked up as a passenger on his outer-space adventures. Yob has elastic-like rubber-limbed properties, which are used to free the hapless pair from the many comical predicaments they encounter throughout their escapades.
The early colour half-page stories were bizarre and zany enough, but later on in early 1968, the strip morphed into a full-page, red/pink colour-scheme affair, and also with another artist, in-house supremo Michael Barratt taking over the drawing duties. Barratt's (and the uncredited scriptwriter's) version catapulted the concept into even more outrageous territory.
Ad blocker interference detected!
Wikia is a free-to-use site that makes money from advertising. We have a modified experience for viewers using ad blockers

Wikia is not accessible if you've made further modifications. Remove the custom ad blocker rule(s) and the page will load as expected.