Old Joe Blind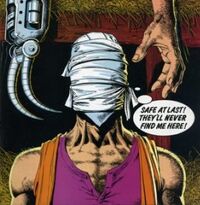 Current alias
Old Joe Blind
Base of operations
Xanadu
Characteristics
Status
Origin
History
Old Joe Blind was a prospector on the planet Xanadu who had the misfortune to fall foul of the Angel Gang. They tortured and blinded both Joe and his horse for no reason, after which both man and horse found themselves not only obsessed by the idea of revenge against the Angels but also possessed of an uncanny ability to track their foes wherever they went. When Judge Dredd came to Xanadu seeking the Judge Child, a prisoner of the Angels, Old Joe helped him track them, but was ultimately caught by the gang and murdered by Junior Angel. His horse was no luckier.

Powers and abilities
Powers
Unexplained mental ability to track the Angel Gang.

Paraphernalia
Transportation
Horse.

Notes
Old Joe and his horse were introduced in the Judge Dredd epic The Judge Child Quest.
Links
Discover and Discuss
Ad blocker interference detected!
Wikia is a free-to-use site that makes money from advertising. We have a modified experience for viewers using ad blockers

Wikia is not accessible if you've made further modifications. Remove the custom ad blocker rule(s) and the page will load as expected.