Passing Cloud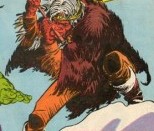 Characteristics
Status
Origin
Origin
Normal human birth
History
Passing Cloud was apparently the last survivor of a Native American tribe who had befriended the creature known as Susquatch, whose violent rages he was able to calm by playing his pipes (the hypnotic effects of which also worked on the monster called the Hulk). Passing Cloud passed like a cloud, apparently the victim of a heart attack, when his Susquatch was killed by fur trappers.

Powers and abilities
Abilities
Accomplished musician.
Strength level
Human male who gets regular exercise.

Paraphernalia
Equipment
His pipes.
Links
Discover and Discuss
Ad blocker interference detected!
Wikia is a free-to-use site that makes money from advertising. We have a modified experience for viewers using ad blockers

Wikia is not accessible if you've made further modifications. Remove the custom ad blocker rule(s) and the page will load as expected.