Characteristics
Status
Occupation
Physics teacher
Origin
Origin
Normal human birth
History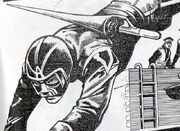 Paul Cannon was a physics teacher at a comprehensive school by day, but by night became the Avenger, a masked crimefighter who battled foes the law had failed to touch with the aid of high tech equipment of his own design. He was slightly hampered in this by young Dave Henderson, one of his students, who suspected his teacher of being the hero, and was pursued by the police, who considered him to be an outlaw vigilante. His arch-enemy was
Ultra-Man
.
Powers and abilities
Abilities
Extraordinary agility.
Strength level
Normal human male.

Paraphernalia
Transportation
Motorcycle.
Weapons
High-tech lance.

Notes
Avenger was one of the later strips to appear in the relaunched Eagle in the 1980s, and shares certain thematic similarities with X-Bow, an earlier superhero character from D.C. Thomson's Hotspur title. The Avenger ran from Eagle #259-284.
Links
Discover and Discuss
Ad blocker interference detected!
Wikia is a free-to-use site that makes money from advertising. We have a modified experience for viewers using ad blockers

Wikia is not accessible if you've made further modifications. Remove the custom ad blocker rule(s) and the page will load as expected.