Pete's Pocket Army was a strip drawn by Francisco Solano Lopez which ran in IPC's Buster in the 1960s. It concerned a boy called Pete (obviously) who had effectively adopted (or been adopted by) six pocket-sized stranded aliens from the planet Liturnus whose spacecraft had crashed near the town of Whitford. Curiously, rather than trying to figure out a way off of this world of gigantic terrors, alien castaways Kon-Dar, Dokk, Moonie, Grunf, Tigg and Zapp seemed perfectly happy to spend their time helping Pete get even with school bullies and Pete's sneaky cousin Julie. All very odd, if you ask me — a fiver says they were the vanguard of an alien invasion, and Pete was to be the first up against the wall when the mother ship arrived!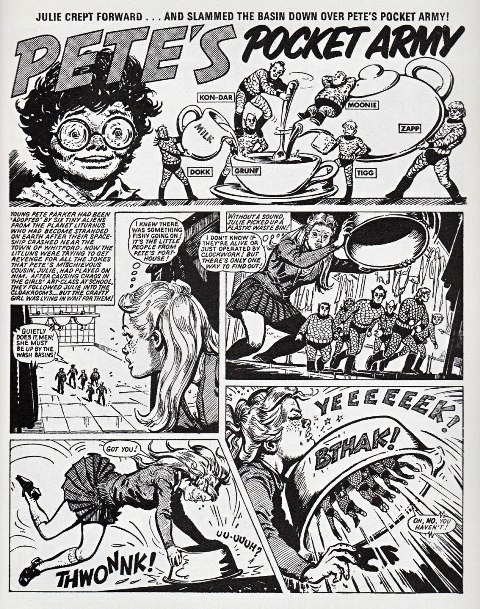 Ad blocker interference detected!
Wikia is a free-to-use site that makes money from advertising. We have a modified experience for viewers using ad blockers

Wikia is not accessible if you've made further modifications. Remove the custom ad blocker rule(s) and the page will load as expected.