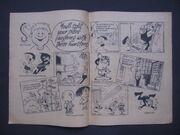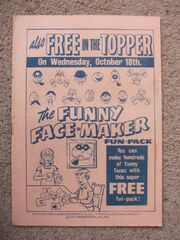 'Pink flyers' or 'pink papers' (not to be confused with gay news-sheet the
Pink Paper
) is the term used to coin the phenomenon of advertising inserts commonly seen in the 1960s and 1970s, from
D.C. Thomson
 especially. The
Beano
, for example, would often carry a four-page advert for
Sparky
 , highlighting an upcoming issue with new characters, and a gift thrown in to entice the reader. These adverts---often entertaining in their own right, and evidently put together by artists and letterers wholly separate from the actual comic they were advertising-----were usually, but not always, printed on lurid pink newsprint, and today they sometimes turn up as separate items of their own unique account, and can command higher asking-prices than the comics they advertise, in some cases.
Ad blocker interference detected!
Wikia is a free-to-use site that makes money from advertising. We have a modified experience for viewers using ad blockers

Wikia is not accessible if you've made further modifications. Remove the custom ad blocker rule(s) and the page will load as expected.