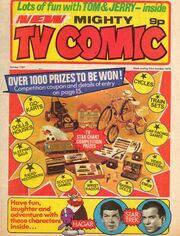 Polystyle Publications Ltd. was a British publisher of children's books and comics from 1960 to 1997, based at Paddington Green in London. Titles it published included
TV Comic
(1951-1984),
Pippin & Playland
(1966-1986),
Target
(1978),
Countdown/TV Action
(1971-1973), three
Doctor Who Specials
in the 1970s, and
Beeb
(1985). Many of their titles revolved around television programmes.
Ad blocker interference detected!
Wikia is a free-to-use site that makes money from advertising. We have a modified experience for viewers using ad blockers

Wikia is not accessible if you've made further modifications. Remove the custom ad blocker rule(s) and the page will load as expected.