Powerman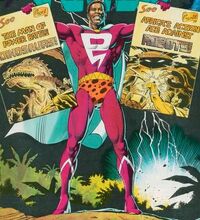 Base of operations
Nigeria
Characteristics
Status
Origin
First appearance
Powerman #1
History
Powerman, also sometimes called Powerbolt, was a superhero active in Nigeria. He protected his country against dinosaurs, robots and other assorted threats which it had conspicuously never been faced with before he turned up to fight them.

Powers and abilities
Powers
Flight; super-strength.
Strength level
Superhuman.
Weaknesses
Snakebites.

Paraphernalia
Transportation
He can fly.

Notes
Powerman was published in Britain exclusively for the Nigerian market from 1975 to 1977. America's Eclipse Comics later reprinted the series in Power Comics in the 1980s, changing the character's name to Powerbolt to avoid confusion with the Marvel Comics character Luke Cage, Power Man. Carlos Ezquerra contributed art to one story.

Trivia
The Powerman series was commissioned from Bardon Press Features by Pican Publications primarily as an aid to literacy.
Links
Discover and Discuss