Psi-Judge Corey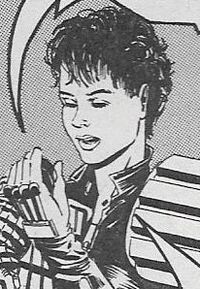 Current alias
Psi-Judge Corey
Characteristics
Status
Origin
Origin
Born with psychic abilities
History
Psi-Judge Corey is a character from the 2000 AD strip Anderson, Psi-Division. She was a member of Mega-City One's Psi-Division and a close friend and associate of Cassandra Anderson, who once went clubbing with her (Psi-Judges being allowed to indulge in that sort of behaviour once in a while to give them a break from their minds being open to the pain of millions of unhappy citizens). Her particular psychic gift was that of empathy: being able to feel the emotions of others.
Corey eventually committed suicide because her empathic abilities made it too difficult for her to cope with the ugliness of the city and its denizens. The incident that triggered her final act was the death of Earth's last humpback whale, which died trying to save her life. Basically, Corey was just too beautiful for the world she lived in.

Powers and abilities
Powers
She's psychic.
Abilities
Corey was an empath.
Strength level
Peak human female.

Paraphernalia
Equipment
Accessory pouch containing three heatseeker shells; helmet containing internal visor display (including infra-red) and respirator; uniform made from plasti-steel reinforced material.
Transportation
Lawmaster bike.
Weapons
Lawgiver handgun which can fire six types of shell: heatseeker, rubber ricochet, incendiary, armour-piercing, high explosive and standard execution. Also daystick and bootknife.
Links
Discover and Discuss
Ad blocker interference detected!
Wikia is a free-to-use site that makes money from advertising. We have a modified experience for viewers using ad blockers

Wikia is not accessible if you've made further modifications. Remove the custom ad blocker rule(s) and the page will load as expected.