Psycops was a rather curious sci-fi/detective strip which ran in The Sun in the 1990's. It revolved around the adventures of Charity, a female private detective and her partner Gabriel (actually a telepathic alien in disguise) and the pair engaged in a number of unlikely adventures (including one which involved travelling to Australia in search of Lord Lucan on behalf of a cable TV show) before the duo finally left Earth to escape an impending disaster.
Despite the strip being credited to "Wilbur", in actuality it was drawn by Striker creator Pete Nash, and co-written by Nash and Simon Ravenhill, who would later become Striker's main artist in its 3D era.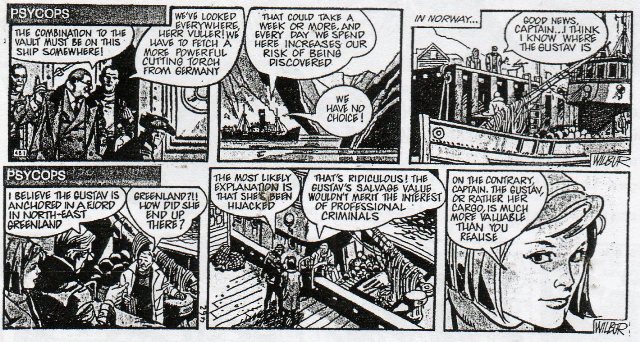 Ad blocker interference detected!
Wikia is a free-to-use site that makes money from advertising. We have a modified experience for viewers using ad blockers

Wikia is not accessible if you've made further modifications. Remove the custom ad blocker rule(s) and the page will load as expected.