Purity Brown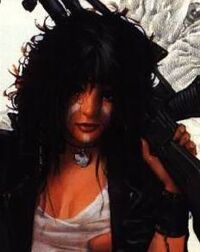 Relatives
Unnamed father (deceased)
Characteristics
Status
Occupation
President of Terra; former freedom fighter
Origin
Origin
Normal human birth
History
Purity Brown is the main supporting character in the 2000 AD strip Nemesis the Warlock. She was, from her early teens, a resistance fighter against the oppressive regime of Torquemada, ruler of the Terran Empire of Termight. Purity was apparently motivated by her father's execution when she was fourteen. He was a tube navvy, one of the builders of the transport tunnels that riddled Termight, and although he hated the Terminators he was careful never to even think about them. But one night he had a dream about telling Torquemada that he was "a warped bigot," and it was picked up by the Thought Police's thought-detector van. Mr Brown was sent to the vapourisation vats.
At seventeen, Purity was sent to a psychiatric institution for hating Torquemada. (She would have been killed but they needed her to breed for them.) After she killed a Terminator by breaking his neck during an escape attempt she was sent to a chain gang, from which she was rescued when she was eighteen by the alien 'freedom fighter' Nemesis the Warlock. He did this by casting a spell to make Torquemada fall in love with her as he walked by. Torquemada took Purity as his girlfriend and she gleaned vital information from him about his moves to stamp out the resistance.
Purity became a member of Nemesis' resistance organization, Credo, and apparently one of his closest confidants. Eventually however, Purity realised that Nemesis was totally amoral and viewed the conflict with Torquemada and Termight as mere entertainment despite the mass slaughter it had generated. Purity betrayed Nemesis and assumed his position as leader of Credo, eventually leading a coup and becoming President of Terra (Earth).

Powers and abilities
Abilities
Purity's father taught her traffkicking, the Termight martial art developed by the tube navvies.
Strength level
Peak human female.

Paraphernalia
Equipment
Magma gloves (for gripping the magma-covered walls of Termight).
Transportation
Has been known to ride a hippogriff.
Weapons
Sword.
Links
Discover and Discuss
Ad blocker interference detected!
Wikia is a free-to-use site that makes money from advertising. We have a modified experience for viewers using ad blockers

Wikia is not accessible if you've made further modifications. Remove the custom ad blocker rule(s) and the page will load as expected.