Pussyfoot 5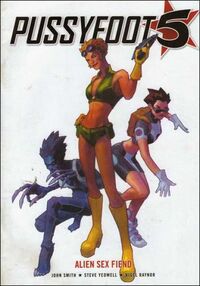 Current alias
Pussyfoot 5
Characteristics
Origin
History
Pussyfoot 5 were an all-female team of troubleshooters (led by the unfortunately named Pussy Willow and including Lucy Melmoth and Mantissa) employed by the Vatican to end wars and fight insurrection across the galaxy. They were aided by Lucy's pet demon, Shatterface, and by Chubby Behemoth, an obese man who was possessed by a dead serial killer.

Paraphernalia
Weapons
Yes.

Notes
Pussyfoot 5 was a spin-off from the established series Devlin Waugh, specifically the story Sirius Rising, which introduced the character of Lucy Melmoth. Pussyfoot 5 appeared in two serials in 2000 AD, in progs 1184 to 1188 (Fast Breeder) and 1251 to 1256 (Alien Sex Fiend) with the latter story being drawn by Steve Yeowell. Both stories were reprinted in a collected edition given away free with Judge Dredd Megazine #281.

Trivia
Pussyfoot 5 are among the various characters created by John Smith which exist within a shared continuity which spans several of his strips.
Colourist D'Israeli is extremely critical of his own work on the first serial, saying that he "misunderstood the whole tone of the series", delivering a colouring job "inspired by Austin Powers" only to discover that editor David Bishop had been thinking more of The Matrix.
Links
Discover and Discuss
Ad blocker interference detected!
Wikia is a free-to-use site that makes money from advertising. We have a modified experience for viewers using ad blockers

Wikia is not accessible if you've made further modifications. Remove the custom ad blocker rule(s) and the page will load as expected.