Raven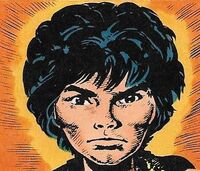 Characteristics
Status
Origin
Origin
Normal human birth
History
Raven was a young Gipsy boy whose footballing genius won him a cap for England and propelled his club, Highboro', towards stratospheric heights. Though his home was with the Lengro, Raven lodged with Highboro' manager Baldy Hagan and his daughter, Jo. However, he remained at the near constant beck and call of his people's wise woman, Morag, and seemed to frequently find himself getting mixed up in dubious adventures.

Powers and abilities
Abilities
Kicking a ball about.
Strength level
Young human male who gets plenty of strenuous exercise (playing football).

Paraphernalia
Equipment
Football kit and boots.

Notes
Raven's adventures originally appeared in Valiant but one was later reprinted in Vulcan.
Links
Discover and Discuss
Ad blocker interference detected!
Wikia is a free-to-use site that makes money from advertising. We have a modified experience for viewers using ad blockers

Wikia is not accessible if you've made further modifications. Remove the custom ad blocker rule(s) and the page will load as expected.