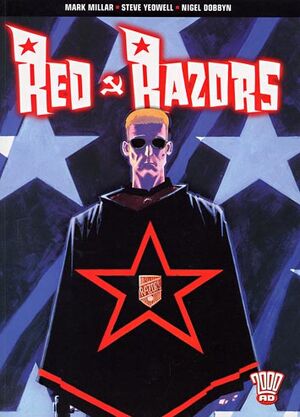 Tharg
's web-droid can do the talking: "You're next, comrade! Sov-Block Two is the only remaining city in future Russia; a cultural melting-pot, where capitalist American influences have melded with more traditional lifestyles like ultraviolence, kidnapping and murder.
Now Sov-Block Two's most psychotic Judge is on the loose and coming for you! Formerly a violent thug, Judge Razors — now a violent thug with authority — is part of an experiment designed to transform the city's most savage criminals into the most brutal Judges the East has ever known. Accompanied by Comrade Ed, the talking horse, Razors is on a mission to investigate the theft of the Holy Corpse of Elvis, as well as the city's plague of superannuated terrorists!"
Red Razors was published in the Judge Dredd Megazine and 2000 AD (first appearing in Judge Dredd Megazine #8, in 1991). Written by Mark Millar and drawn by Steve Yeowell and Nigel Dobbyn, it was set approximately 50 years into the future of the Judge Dredd universe. The story is collected in volume 59 of Judge Dredd: The Mega Collection.
Ad blocker interference detected!
Wikia is a free-to-use site that makes money from advertising. We have a modified experience for viewers using ad blockers

Wikia is not accessible if you've made further modifications. Remove the custom ad blocker rule(s) and the page will load as expected.