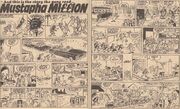 Reginald Parlett (2nd August 1904 to 18th Nov 1991) was a comics artist whose career spanned 66 years, virtually all of it spent with the Amalgamated Press or its successor,
IPC
. His credits included
Funny Wonder, Fim Fun, Radio Fun, Buster, Cor!!, Whizzer and Chips, Whoopee!, Knockout, Cheeky Weekly, Jackpot and Wow!
His creations include
Ivor Lott and Tony Broke
,
Kid Gloves
and
Mustapha Mi££ion
.
Ad blocker interference detected!
Wikia is a free-to-use site that makes money from advertising. We have a modified experience for viewers using ad blockers

Wikia is not accessible if you've made further modifications. Remove the custom ad blocker rule(s) and the page will load as expected.