Reist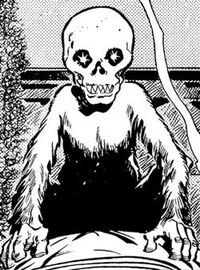 Characteristics
Status
Occupation
Nightmare Demon
Origin
History
Reist was one of the last of a species called Nightmare Demons, which were all but wiped out during the Clone Wars. Enslaved by the android Altin Wuho, a servant of the Galactic Empire, Reist reluctantly served the Empire until Wuho used him to attack Luke Skywalker on the planet Lapez-3. When Skywalker's mental abilities proved capable of overpowering Reist's projections, Skywalker was able to severely wound him with his lightsaber. The dying Reist, though, reached out to Skywalker's mind and convinced him to destroy Wuho, thus enacting Reist's revenge for him.
Skywalker buried Reist before leaving Lapez-3.

Powers and abilities
Powers
Telepathy
.
Abilities
Reist could project illusions into his victims' minds which were so powerful they could kill by inducing sheer terror and hopelessness after immobilising them.
Weaknesses
A lead hood would block his powers.
Links
Discover and Discuss
Ad blocker interference detected!
Wikia is a free-to-use site that makes money from advertising. We have a modified experience for viewers using ad blockers

Wikia is not accessible if you've made further modifications. Remove the custom ad blocker rule(s) and the page will load as expected.