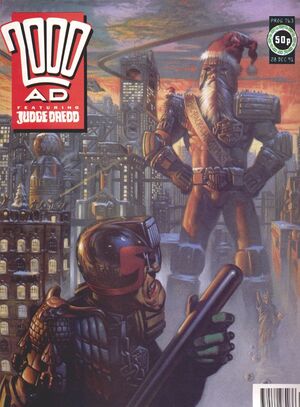 Richard Dolan (not to be confused with American ufologist Richard M. Dolan) is a British comics artist. He drew the 
Mean Angel
story 'Travels with Muh Shrink' for
2000 AD
(progs 730 to 736) and has also painted many covers for the magazine. Dolan is a dab hand with covers, using a rich, painterly style. The one for the
2000 AD Sci-Fi Special
of 1989, showing
Tharg
relaxing on a beach while having his every whim catered to by nubile young women, was particularly good.
It is not known whether or not Richard Dolan believes in UFOs, although he can undoubtedly draw them.
Ad blocker interference detected!
Wikia is a free-to-use site that makes money from advertising. We have a modified experience for viewers using ad blockers

Wikia is not accessible if you've made further modifications. Remove the custom ad blocker rule(s) and the page will load as expected.