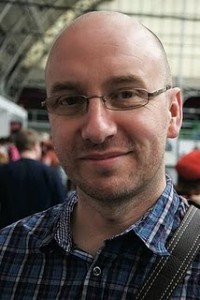 Rob Williams is a British comics writer, born on August 3rd, whose daughter loves him "more than any crocodile," and whose website can be found
here
. He was asked to work for
2000 AD
after its editor saw a comic he had written called
Cla$$war
. Williams went on to write the series
Asylum
(with
Boo Cook
);
Breathing Space
;
The Ten-Seconders
and
The Grievous Journey of Ichabod Azrael (and the Dead Left in his Wake)
, as well as several
Judge Dredd
stories. For the
Judge Dredd Megazine
he wrote
Family
and
Meet Darren Dead
.
Williams is perhaps best known for creating (with Henry Flint) the 2000 AD series Low Life, detailing the adventures of the undercover judges known as the Wally Squad, and for writing the Low Life section of the three-way crossover Trifecta. He created the characters of Aimee Nixon, Eric 'Mortal' Coil, dishevelled hobo-cum-hero Dirty Frank and everybody's favourite razor-toothed saurian monster Sensitive Klegg (with D'Israeli). Williams has also done a lot of work for Marvel Comics, and in 2014 began co-writing the Doctor Who: The Eleventh Doctor series for Titan Comics.
From the Daily Telegraph: "Writer Rob Williams said Dredd's sexuality - whatever it is - was buried beneath his love for the law. He said: 'Although, can you imagine what would happen if that repression ever fell away, just for an instant? Sure, Dredd could be gay. You can't look at the original costume design of leather and chains and not see a fetishistic edge there. But Dredd's feeling are so deeply hidden, he is extremely unlikely to ever let them show.'"
Ad blocker interference detected!
Wikia is a free-to-use site that makes money from advertising. We have a modified experience for viewers using ad blockers

Wikia is not accessible if you've made further modifications. Remove the custom ad blocker rule(s) and the page will load as expected.