Rocky Rhodes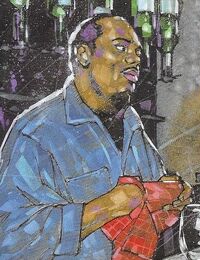 Current alias
Rocky Rhodes
Base of operations
Downlode
Characteristics
Unusual features
Robotic legs
Status
Occupation
Bartender; former cop
Origin
History
Rocky Rhodes is a character from the 2000 AD strip Sinister Dexter. He was a police officer in the futuristic city of Downlode, and one of the few cops who actually tolerated the activities of gunsharks Finnigan Sinister and Ray Dexter, on the grounds that "they do the dirty jobs we cops can't." In the first story he appeared in he was shown knocking his overzealous partner Tracy Weld unconscious when she tried to arrest the pair. (Fortunately for Rocky, Tracy later came round to his point of view when one of her superiors ordered an air strike on an area containing civilians and she realised that the police force was just as bad as the gunsharks, if not worse.)
Rocky left the police force after he lost his legs in action and they were replaced with robotic prostheses. He continued to be a friend and confidante to Sinister and Dexter in his new role as the owner of The Bar None, a watering hole which he runs with his wife Wendy Go. Finny was the best man at their wedding (which was briefly postponed when Wendy was kidnapped by a robot sent by a crime lord from Mangapore who used to 'own' her, and the gunsharks had to travel to Mangapore with Tracy and rescue her).
Rocky tracked down an amnesiac Sinister and reminded him who he was in Malone, and went on to help Sinister rescue Dexter from a high-security prison. Unfortunately, the gunsharks later inadvertently erased themselves from reality and he was left with no recollection of their existence. Didn't stop them drinking in his bar, though.

Powers and abilities
Abilities
Pulling pints; extricating his friends from sticky situations.

Paraphernalia
Equipment
Clunky-looking robotic legs.
Transportation
(Formerly) Flying police car.
Links
Discover and Discuss
Ad blocker interference detected!
Wikia is a free-to-use site that makes money from advertising. We have a modified experience for viewers using ad blockers

Wikia is not accessible if you've made further modifications. Remove the custom ad blocker rule(s) and the page will load as expected.