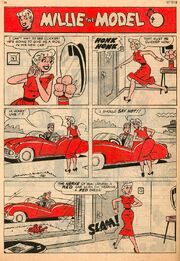 Romeo
was a weekly girls' comic published by
D.C. Thomson
from August 31st 1957 to September 14th 1974, after which it was merged into
Diana
(
Romeo
had itself absorbed
Cherie
in 1963).
The content, as the name implies, was mostly romanced-based strips but interestingly included a number of reprints of American material — including Marvel Comics' long-running humour character Millie the Model — alongside original British material.
Romeo appeared to be aimed at a slightly older and more sophisticated audience than most of Thomson's other girls comics, and included a problem page where readers could receive often quite blunt and uncompromising advice on issues affecting them, some of which would not normally have been tackled by a juvenile title. Chief sub-editor John Wagner also wrote horoscopes for the title. Strips featured included:
Ad blocker interference detected!
Wikia is a free-to-use site that makes money from advertising. We have a modified experience for viewers using ad blockers

Wikia is not accessible if you've made further modifications. Remove the custom ad blocker rule(s) and the page will load as expected.