Romeo Brown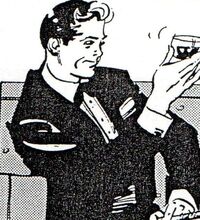 Base of operations
Mobile
Characteristics
Status
Occupation
private detective
Origin
History
Romeo Brown was a likeable but somewhat bumbling private detective who far preferred socialising with his lady friends (like Miss Peach of Fingles Theatrical Agency and Fan, owner of the Matchwell Marriage Bureau) to working.

Powers and abilities
Weaknesses
Wine, women and song

Notes
Originally created by Alfred Mazure, from 1957 Jim Holdaway took over the art, with Peter O'Donnell writing. When Romeo's adventures ceased in 1962, O'Donnell and Holdaway created Modesty Blaise.

Trivia
The Mirror Classic Cartoon Collection Vol 1 1 contains reprints of Romeo's adventures.
Links
Discover and Discuss
Ad blocker interference detected!
Wikia is a free-to-use site that makes money from advertising. We have a modified experience for viewers using ad blockers

Wikia is not accessible if you've made further modifications. Remove the custom ad blocker rule(s) and the page will load as expected.