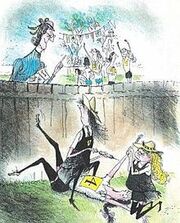 Ronald William Fordham Searle (CBE, RDI) was a British cartoonist and illustrator born in Cambridge on 3rd March 1920. Despite a lengthy and varied career, he is principally remembered as the creator of the St. Trinians cartoons which inspired the popular film series, and also as the illustrator of the Molesworth books set at St. Custards preparatory school. Searle, who was a Japanse Prisoner of War in the 1940's and a survivor of both Changi Prison and the Burma 'death railway' in the Kwai jungle (Searle created a number of works based on these experiences, one of which is displayed in the Imperial War Museum) died on 30th December 2011, aged 91.
Ad blocker interference detected!
Wikia is a free-to-use site that makes money from advertising. We have a modified experience for viewers using ad blockers

Wikia is not accessible if you've made further modifications. Remove the custom ad blocker rule(s) and the page will load as expected.